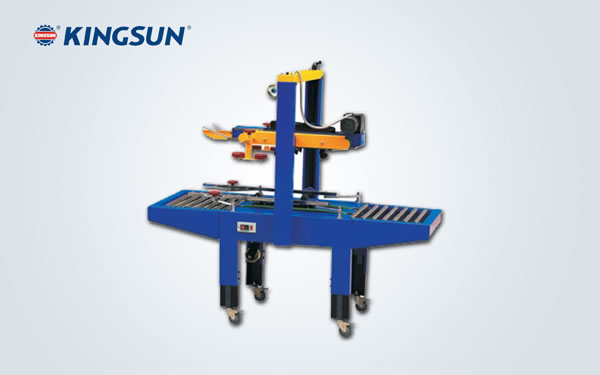 FXJ-6050 Carton Sealer
FXJ6050 carton sealer, a kind of packaging equipment, is mainly used for sealing cartons boxes. A carton sealing machine can be used either independently or as a necessary part of a packaging line.
Our carton sealer is widely used in packaging fields for household appliances, foods, daily articles, and medicine, etc.
Parameters of carton sealer FXJ-6050
| | |
| --- | --- |
| Model | FXJ-6050 |
| Power supply | 220V/50HZ, or 110V/60HZ |
| Power | 200W |
| Max. Carton size (W×H) | 500×600 mm |
| Min. Carton size (W×H) | 140×150 mm |
| Suitable adhesive tape | BOPP, PVC adhesive tape |
| Tape width | 48, 60mm |
| Dimension (L×W×H) | 1755×740×1445 mm |
| Net Weight (Kgs) | 120kgs |
Kingsun Machinery Company is a carton sealer manufactuer based in China. In addition to carton sealer, we can also provide many other packing and packaging machinery, including blister packing machines, capsule filling machines, shrink packaging machines, and more. Printing equipment, post press equipment, etc. are also available here.
These products feature high functional performance, simple operation and wide range of application. Welcome to choose.