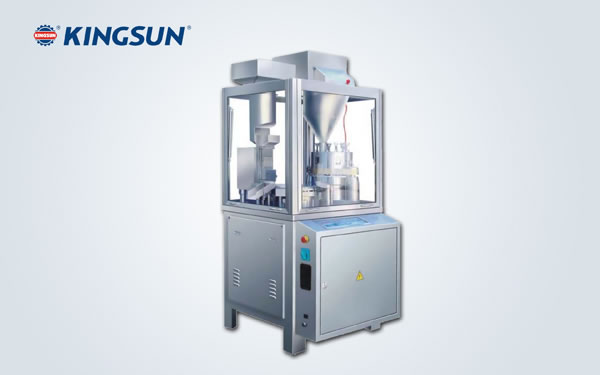 NJP Series Capsule Filling Machine
Designed based on both national and international production techniques for medicine packing machines, our capsule filling machine has higher machinery standard and outstanding performances.
The following paragraphs will introduce the advantages and features of our capsule filling machine.
Advantages and features of capsule filling machine
1. Our capsule filling equipment is designed with exquisite workmanship. Hence, it is easy to use.
2. Stowage seat and measuring plate are designed as one unit to avoid friction and deviation between stowage rod and measuring plate. This greatly improves measuring precision and prolongs machinery lifetime.
3. Improper-packed capsules will be rejected automatically. Meanwhile, this capsule filling machine will recycle the medicine in improper-packed capsules, thus saving cost.
4. It is convenient to disassemble, install and clean this capsule filling machine. The moulds of different filling machines are exchangeable. Additionally, the moulds of model 800, model 1000 and model 1200 capsule filling machines can be used in one machine, to satisfy variable production needs.
5. Dust collecting pipes, vacuum pipes, and waste air pipes are installed inside the filling equipment. This design can effectively prevent pipes from aging, breaking and leakage. It also simplifies platform cleaning. Our capsule filling machine conforms to GMP standard.
6. Stainless steel stowage-rod caps replaced traditional plastic caps. Stainless steel caps are more durable. Less use of screws and caps on the platform makes our capsule filling machine to be neat and graceful.
Main technical parameters of capsule filling machine NJP series
Model
NJP800
NJP1000
NJP1200
Capacity (capsules/min)
800
1000
1200
No. of die holes
6
8
9
Capsule size
NO. 00-5
Filling precision
>98%
Dosing precision
Better than the stipulation of China Pharmacopoeia
Power supply
380V 50Hz three-phase with four wires
Power
3kw
Noise
<80dB(A)
Vacuum degree
0.04-0.06Mpa
Air pressure
75m3/h 0.4Mpa
Suction
700m2/h 2×105pa
Overall dimension
970×820×1900mm(L× W × H)
Net weight
900kg
Kingsun Machinery Company is a capsule filling machine manufacturer based in China. We can provide wide range of packing equipment, such as granule packing machines, liquid filling machines, sleeve sealing machines, shrink packaging machines, etc. Additionally, printing machinery, film blowing machines, slitter rewinders, etc. are also available here.
As a result of our reliable quality and competitive price, our printing and packaging equipment are well accepted in over 50 countries in Europe, Asia, America and Africa.
Thanks for visiting our website. If you want to know more information, pick up your phone and give us a call.