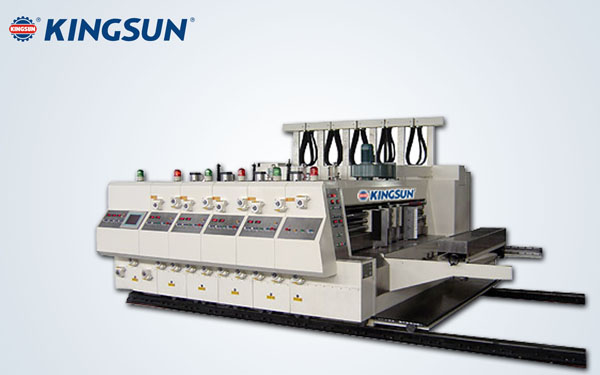 The computer controlled flexo printer slotter is designed for printing, slotting and die cutting of high and medium grade corrugated paper in corrugated carton making process.
Features
1. The flexo printer slotter has a PLC control system, frequency converter phase control system, touch screen and button control system, etc. The ink roller can achieve intelligent rising and descending, and the printing plate can achieve automatic memory and reset functions after cleaning. In addition, the flexo printer slotter can automatic stop working when finished pre-set task.
2. The main drive gear is made using superior quality alloy steel (20CrMnTi). Through programme controlled carburizing and quenching, ground finish treatment, etc, it can achieve high hardness (class 6) and high precision.
3. A touch screen is available to show the preset values and to control the position of printing plate and slotting knife. The speed of the computer control flexo printer slotter can also be set via the touch screen which also have counting and alarming functions.
Technical Specifications of Computer Control Flexo Printer Slotter
Model
YKMZ-1000
YKMZ-1200
YKMZ-1400
YKMZ-1600
1800
2200
2500
2800
2500
2800
2500
2800
Max. Feeder Size(mm)
1760*970
2160*970
2500*1170
2800*1170
2500*1370
2800*1370
2500*1570
2800*1570
Min. Feeder Size(mm)
650*280
650*280
650*350
650*350
650*380
650*380
700*400
700*400
Skip Feeder Size(mm)
1760*1170
2160*1170
2500*1370
2800*1370
2500*1570
2800*1570
2500*1770
2800*1770
Max. printing area (mm)
1750*950
2150*950
2450*1150
2750*1150
2450*1350
2750*1350
2450*1550
2750*1550
Standard printing plate thickness (mm)
7.2
7.2
7.2
7.2
Min. Slotter Interval (mm)
Up Knife
120*120*120*120
140*140*140*140
150*150*150*150
150*150*150*150
Down Knife
190*50*190*50
250*80*250*80
250*80*250*80
250*80*250*80
Effective paper feeding (mm)
2.5-10
2.5-10
2.5-10
2.5-10
Max. slotting depth (mm)
300
300
350
350
350
350
350
350
Max. speed (feed paper with a push plate) (pcs/min)
190
190
160
160
140
140
120
120
Max. speed (feed paper from front edge) (pcs/min)
200
200
170
170
150
150
130
130