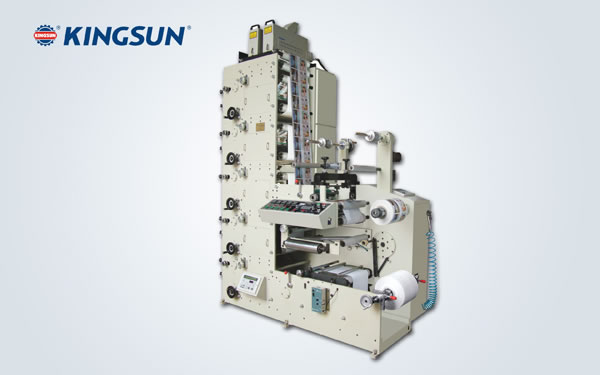 FP-320/420 Flexo Printing Machine
Our flexo printing machine is suitable for flexo printing of label paper, commercial paper, computer typing paper, and films. This flexo printing equipment is environmentally friendly as a result of our adoption of water based ink. It produces high quality prints and is cost effective. As a result, our FP-320/420 series flexographic printing machine is extensively used in printing and packaging industries.

Characteristic of flexo printing machine FP-320/420
1. High precision ceramic anilox roller is adopted for ink transfer.
2. Precise material unwinding is guaranteed as a result of our adoption of magnetic powder brake and Mitsubishi tension controller.
3. All printing units are designed with 360° adjustment of print registration.
4. Each printing unit is equipped with an IR dryer.
5. Our flexo printing machine is designed with a die cutting unit, which enables us to finish printing and die cutting at one stop.
6. The anilox roller will separate with the printing machine automatically when the machine stops operating. However, it will keep running at a low speed, thus preventing ink drying.
7. World-leading stepless frequency converter is adopted for speed control.
8. Our FP-320/420 series flexo printing machine can finish raw material unwinding, printing, glazing, IR drying, coating, die cutting and rewinding, etc. at one stop.
Our flexographic printing machinery provides a good solution for printing houses to produce commercial paper, high grade adhesive labels and so on.
Technical parameters of flexo printing machine FP-320/420
| | |
| --- | --- |
| Model | FP-320 |
| Printing speed | 50m/min |
| No. of printable colors | 4, 5 or 6 |
| Max. web width | 320mm |
| Max. printing width | 310mm |
| Max. unwinding diameter | 600mm |
| Max. rewinding diameter | 600mm |
| Printing repeat length | 175-355mm |
| Precision of color register | ±0.1mm |
| Overall dimensions | 2 × 1.1 × 2.7M |
| Weight | About 2,500kg |
Kingsun Machinery Company is a flexo printing machine manufacturer and supplier based in China. We have over 20 years manufacturing experience for various different types of printing machinery, like PS plate label printing equipment, label screen printing machinery, and more. In addition to printing machines, we can also provide thermal laminators, die cutting machines and packing machines, to name a few. Welcome to contact us for more information on our flexo printing presses and any other product.