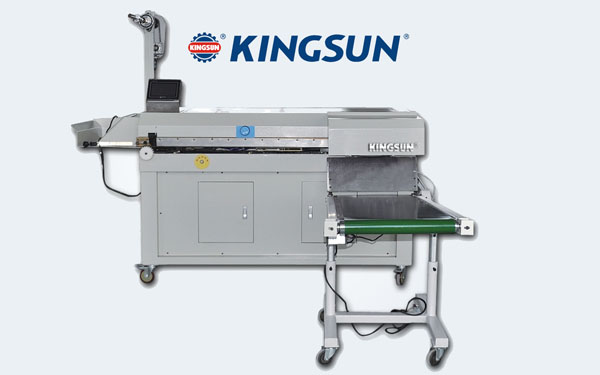 The double spiral ring binder is used in notebooks, albums, calendars, and other loose-leaf binding.
One roll of double-spiral coil is used as the binding material. To pass through the book by manual operation, the double spiral ring binder can automatically complete the coil backward, length counting, cut off, send coil, press circle, book output and so on. The machine reduces the operational steps and reduces labor intensity. It has PLC centralized control and process parameter transformation can be done in the user interface page.
Features
1. The double spiral ring binder has centralized control by PLC, the default process parameters can be preset.
2. There is no need to replace the mold when changing to a different product.
3. The machine can be applied to books where the front cover is bigger than the inside pages.
Technical Parameters of the Double Spiral Ring Binder
| | |
| --- | --- |
| Binding paper size | 80×100-380×530mm |
| Double wire size | 5/16"-1" |
| Maximum operating speed | 1000books/ hour |
| Pressure | 0.15 MPa |
| Voltage | 220V/50HZ |
| Main motor power | 0.5KW |
| Machine dimensions (L ×W ×H)) | 2200*980*1740mm |
| Conveyor belt size | 1800×560×700mm |
| Weight | 400kg |