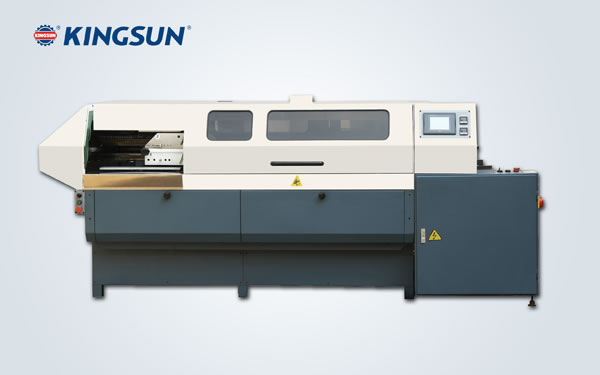 JBT50 Series Perfect Book Binding Machine
Most brochures, exercise books, catalogues and many other printed documents with few pages are saddle stitched. Perfect book binding is a good choice for binding documents with more pages. Kingsun Machinery Company, a perfect binding machine manufacturer in China, can provide different types of perfect book binders for your choice.
Perfect binder features:
1. JBT50 series perfect book binding machine is designed with automatic book cover feeding system and adopts frequency converter for speed control.
2. PLC control, PID temperature control, photoelectric identification system and automatic fault detection and control system, etc. provides our perfect book binding machine with simple operation and high safety standard.
3. This book binding equipment is equipped with an automatic glue removal device.
4. Advanced lead trail type clamping table guarantees a stable claming table operation.
5. Oblique gear system guarantees uniform and quality side gluing.
Main specifications of perfect book binding machine
Perfect binder model
JBT50/3D
JBT50/4D
JBT50/5D
Perfect binding size
Max. 450×270mm
Min. 160×120mm
Binding thickness
3-50mm
3-50mm
3-50mm
Binding speed
1800pcs/h
2000pcs/h
2000pcs/h
Total power
13kw
15kw
18kw
Overall dimensions
2700×1340×1260mm
3100×1340×1260mm
4000×1700×1640 mm
Weight
1500kg
1800kg
2000kg
Kingsun Machinery Company is a China-based perfect book binding machine manufacturer and supplier. We can provide not only different bookbinding tools for large or medium sized printing houses, but also many other post press machinery, like automatic gluing machines, combined folding machines, and UV coating machines, and more.
Currently, these products are well accepted in over 50 countries around the world. Welcome to contact us for more information.