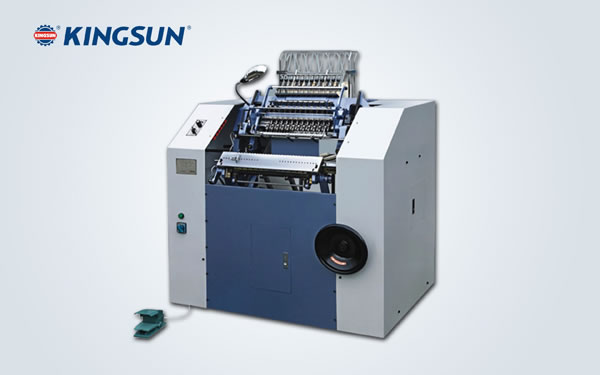 SXC460 Sewing Machine
This is a book sewing machine.
SXC460 book sewing machine is clutch controlled and equipped with an IR safety device. It features reliable performance and wide range of applications. Hence, our sewing machine offers an ideal book sewing solution for high grade book binding.
Main specifications of book sewing machine SXC460
Sewing size
Max:460×370mm
Min:125×125 mm
Sewing speed
Max: 53Cycles/min
Min: 43Cycles/min
Max. needles
12pcs
Power
0.75kw
Weight
700kg
Dimensions
1670×1360×1600mm
We are one of the China-based sewing machine manufacturer and supplier. We can provide not only book sewing machines, but also saddle stitched book binding tools, perfect binders. Variety of other post press machinery like thermal film lanianting machines, dry laminators, die cutters, slitter rewinders, and UV coating machines, etc. are all available at Kingsun Machinery Company.
We have over 20 years production experience and over 10 years international marketing experience. Hence, we are confident that we can provide high quality products at reasonable prices. Currently, our printing and packaging machines have been sought after by customers from over 50 contries around the world. Welcome you to join us. We will surely be able to satisfy you.