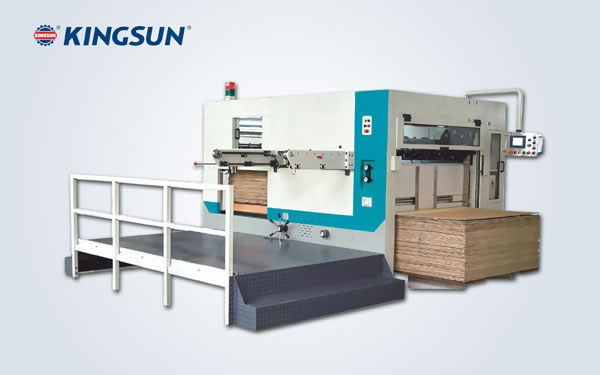 KYH 1450/1500 Semi Automatic Die Cutting Machine
KYH series semi automatic die cutting machine is applicable for die-cutting of paper boxes, and graphic cartons, etc.

Why choose our semi automatic die cutting machines?
1. This die cutting machine is equipped with high intensity gripper bars. These gripper bars are applicable to all kinds of cardboard, paperboard and corrugated paper.
2. Frontal, back and side positioning mechanism ensures high precision die cutting.
3. High accuracy intermittent mechanisms, air clutches, and pneumatic locking mechanisms are also available in our semi auto die cutting machines. These components guarantees a higher machinery standard.
4. KYH series semi automatic die cutting machines feature simpler operation, as a result of their adoption of PLC controller and human-machine interface. The working speed, processed paper amount, total operation time of our die cutters can all be displayed through the interface. Additionally, machinery failures can also be displayed, which greatly facilitates trouble shooting.
5. Variable frequency converters are adopted to control the main motor. Its stepless speed variation provides our die cutting machine with steady performance.
6. Additionally, sensors and safety devices are mounted in different parts of our semi automatic die cutting machines. Hence, the safety of both die cutter and operator is guaranteed.
7. The front and back die cutting pressures can be adjusted respectively. It is convenient to stop the die cutter by hand, and the machine can realize die cutting without gripper edge.
Technical parameters of semi automatic die cutting machines
| | | |
| --- | --- | --- |
| Model | 1,450 | 1,500 |
| Max. paper size | 1,450×1,060mm | 1,500×1,100mm |
| Min. paper size | 550×500mm | 650×600mm |
| Max. die-cutting size | 1,445×1,045mm | 1,495×1,095mm |
| White board thickness | 200-2,000g/ cm2 | 200-2,000g/ cm2 |
| Fluting paper thickness (Flute) | 8mm | 8mm |
| Height of paper feeding pile | 1,400mm | 1,400mm |
| Height of paper collecting pile | 1,200mm | 1,220mm |
| Max. die-cutting speed | 4,000s/h | 6,500s/h |
| Max. die-cutting pressure | 250N/cm2 | 250N/ cm2 |
| Power | 13.5KW | 13.5KW |
| Dimensions | 4,200×2,300×2,200mm(L×W×H) | 4,500×2,300×2,200mm (L×W×H) |
| Weight | 16T | 18T |
KYH series die cutting machines, a kind of post press equipment, are provided by Kingsun Machinery Company. Since our beginning, Kingsun Machinery Company is committed to supplying high quality post press equipment, printing machinery and packaging machines. Currently, our machines are extensively used in food and medical packaging industries, book and periodical printing fields, and label making industries, and more.
For more information, please contact us directly, or browse our website.