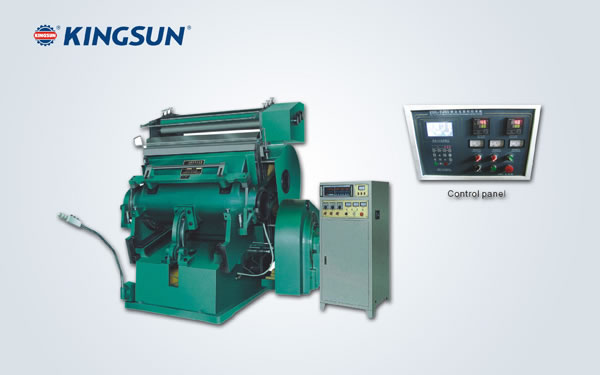 TYMK Series Hot Foil Stamping Machine
TYMK series hot foil stamping machine, a new-developed high precision and high efficiency machine, is mainly used for hot stamping on materials like colored anodized aluminium foil, or used to produce concave-convex. Additionally, our hot foil stamping machine can also be used for die-cutting of labels, sampling products ads, paper boxes, book covers, invitation letters, and New Year cards, and more.
This hot stamping machine is suitable for variety of materials, like paper, paper board, plastic sheet, leather, etc. It is extensively used in printing, packaging and plastic product manufacturing industries.
Why choose our hot foil stamping machines?
1. The machine frame features high strength due to its high quality raw material and integral casting design.
2. Our hot foil stamping machine is equipped with a single plate electromagnetic clutch which is sensitive and reliable.
3. The operation height is reasonably designed, and the moving bed is can open to its optimum.
4. The electrical system of our hot foil stamping machine is designed in accordance with IEC standard.
5. Single-sheet stamping, continuously stamping and open-delay functions are all available. (Adjustable time delay)
6. Reliable safety system provides our hot stamping machine with high safety standard.
Technical parameters of hot foil stamping machines
Model
TYMK750
TYMK930
TYMK1100
Max. platen working area
720×510mm
930×660mm
1,100×800mm
Max. stamping area
670×480mm
930×660mm
1,100×800mm
Skip-order range
Built-in processor in the computer
Working pressure
150tons
170tons
220tons
Foil-feeding length
500mm
640mm
800mm
Foil-feeding group
2 groups
3 groups
3 groups
Working speed
25 strokes/min
22 strokes/min
20 strokes/min
Main power
2.2kw
3kw
4kw
Total motor power
4.5kw
9kw
9kw
Dimensions
1.37×1.55×1.7m
1.83×1.67×2.2m
2.0×1.95×2.3m
Weight
1,900kg
3,500kg
4,700kg
Kingsun Machinery Company is a hot foil stamping machine manufacturer and supplier in China. Our company is located in Wenzhou city, China. This location offers us convenient transportation by sea, land and air. Hence, we can reduce our production cost as a result of our lower transportation fees, and our customers can also save a lot on freight charges.
In addition to hot stamping machines, we can also supply plastic bag making machines, slitter rewinders, auto granule packing machines, and capsule filling machines, and more. Welcome to contact us for more information.