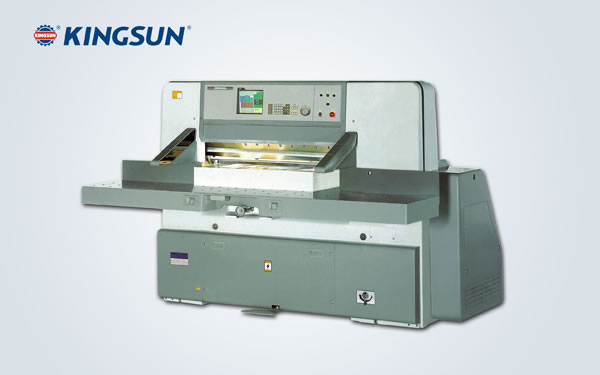 QZYK-CD Series Paper Cutting Machine
Our paper cutting machines are designed for cutting all kinds of materials precisely, such as printed matter, cardboards, plastics, leather products and metal foils, etc.
General introduction:
1. As a paper cutting machine manufacturer in China, we are able to provide a wide selection of paper cutting machines varying on cutting width. Specifically, we can provide 920, 1150, 1300, 1370 and 1760 models of paper cutting machines. Each model number refers to the cutting width of each paper guillotine.
2. The key parts of our paper cutting machines are acquired from international famous suppliers. Due to our focus on quality, our paper cutters are CE certified.
Features of QZYK-CD series paper cutting machines
1. Our paper cutting machinery is equipped with Sharp 10.4 inch true color displaying screen which assures high quality colors (up to 25,600). User-friendly design provides operators with simple machinery operation.
2. Designed with a storage capacity of 10,000 groups of data and a memory period of 300,000 hours, our PLC controlled paper cutter provides users with reliable performance.
Designed with USB interfaces, our paper cutting machines can realize data information exchange and remote control.
3. Japan servo motor is adopted for paper-pushing, so our paper cutting equipment features low noise, high speed and quick response. Our adoption of Japan servo motor also guarantees a high precision positioning (±0.001mm).
4. A hydraulic system designed based on Germany technology is optional. Additionally, in the hydraulic system of our paper cutting machine, we also provide long service life and low noise gear pump acquired from Italy for your option.
5. The guide way of our paper cutting machine is made of bearing steel and is designed in linear style, so it has a strong force and high accuracy.
6. Our paper cutting machine is equipped with a ball screw rod which features no interval, good rigidity, high efficient and long service life.
Main specifications of QZYK-CD series paper cutting machine
Paper cutter model
920
1150
1300
1370
1760
Cutting width
92cm
115cm
130cm
137cm
176cm
Cutting length
13cm
16.5cm
13cm
16.5cm,
16.5cm
Cutting length
92cm
115cm
130cm
145cm
200cm
Machine power
3KW
4KW
4KW
4.5KW
7.5KW
Width (+table)
206(252)cm
235(315)cm
250(330)cm
257(337)cm
360cm
Machine length
216cm
236cm
246cm
266cm
341cm
Machine height
152cm
165cm
152cm
165cm
175cm
Table height
86cm
90cm
86cm
90cm
90cm
Min. cut width
2.5cm
2.5cm
2.5cm
3cm
3.5cm
Cutting speed
45/min
45/min
45/min
45/min
45/min
Electricity
360-400V, 50Hz(or custom-built)
Machine weight
2500kg
3800kg
3800kg
4500kg
6800kg
Kingsun Machinery Company is a professional paper cutting machine manufacturer in China with over 20 years manufacturing experience. In addition to paper guillotines, we can also provide many other post press equipment, like sewing machines, die cutting machines, three knife trimmers, and UV coating machines, to name a few.
All of our machines feature simple operation and reasonable price, and are widely used in printing and packaging fields.
For any information, please don' hesitate to contact us. We will respond you as soon as possible.