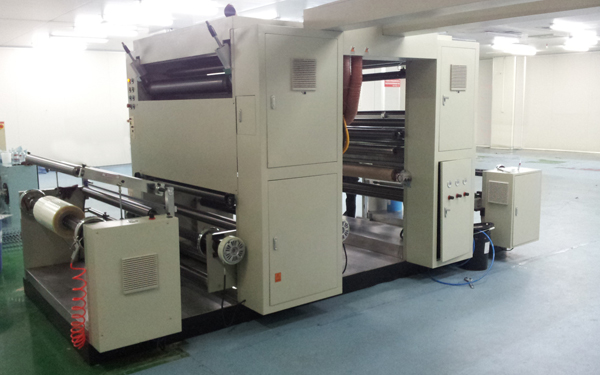 Features
1. The optical film UV embossing machine is applied to emboss the diffusion film, brightness enhancement film, reflective film, the light guide film, it can be used for IMD/ IML, TFT- LCD TV, computers, mobile phones and other touch screen backlight module to let backlight glow.
2. With UV nano-leveling transmission device, this holographic embossing machine uses light pre-cured and cold pressing technology to transfer micro-prismatic constructions, with light polymerize strong curable systems, positive and negative wire bonding the protective film performance. The embossing thickness is 20- 50u.
3. Equipped with PLC automatic control, TDM extra accuracy wheel, UV coating line, and non-contact drying tunnel design, which can improve the flatness of the film surface.
4. The nitrogen filling UV curing technology makes a perfect combination between the coating and the raw material with high embossing quality, its accuracy is up to the nano-scaled.
5. The protective film is fit for various micro-edge structures, all processes can be done by one optical film machine, so that it can reduce the labor, and save the cost.
6. Our film embossing machine is able to emboss hard coating, ITO scratch-resistant protective film, solar Fresnel lens film, and LED lighting reflective film. It also can be used to emboss PET or OPP local positioning Fresnel lens (Multi-lens) anti- counterfeiting film with special plate.
7. This heat embossing machine is multipurpose and its performance-to-price ratio is higher than the similar models in USA, Japan, Korea.
Technical Specifications
| | |
| --- | --- |
| Model | KLJ-1200 |
| Embossing width | 600-1200mm |
| Max. roll diameter | 600-800mm |
| Material thickness | 20-500um |
| Max. speed | 5-100m/min |
| Plate roller diameter | 240-300mm |
| Motor power | 20KW |
| Voltage | 380V |
| Air pressure Mpa | 0.4KG /CM2 |
| Coating mode | Smooth roll, anilox roller |
| Overall dimensions | 5000 x 2330 x 2380mm |