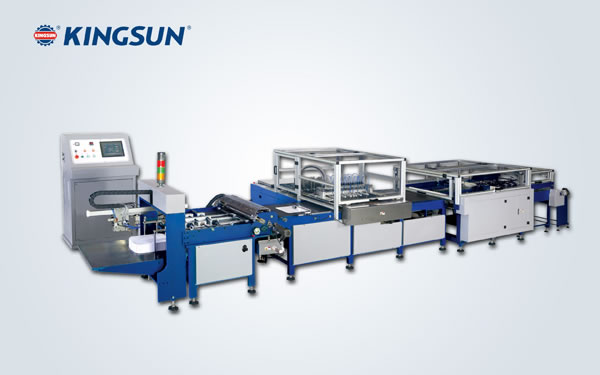 AHC-450A/540A Hard Cover Making Machine
The automatic hard cover making machine, also called automatic case maker, is designed with an automatic paper feeding unit and automatic position control system. It can place the cardboards accurately.
AHC series hard cover making machine is widely used for making hard covers, notebook covers, calendars, lever arch file folders, etc.
Why choose Kingsun hard cover making machines?
1. This automatic case maker is designed with a back push type feeding system, and this pneumatically controlled feeding system is designed with simple and user friendly structure.
2. AHC series hard cover making machine adopts concentrically width adjustment for paper stacker and feeding table. This operation is simple and produces no tolerance.
3. A newly designed copper scraper is equipped in the gluing system. It can effectively prevent paper curving.
4. The cardboard feeding table is designed with linear guide rail and controlled by a servomotor, which guarantees a fast and high precision positioning.
5. The feeding table of our hard cover making machine is designed with auto stop function. This helps prevent machinery failure caused by material shortage.
6. A high power suction fan is equipped under the conveyor belt. It functions to guarantee a smooth and stable paper material feeding.
7. Paper conveying system is designed with photoelectric controlling system, which ensures a high precision matching between paper and cardboard.
8. Our hard cover making machine is also equipped with an automatic four-edge trimming machine. Thus, the quality of finished products is guaranteed.
9. This PLC controlled hard cover making machine is easy to operate. Machinery faults are directly displayed on the touch screen, which enables operators to eliminate faults conveniently.
Main specifications of hard cover making machine AHC series
Model
AHC-450A
AHC-540A
Paper size
130×230mm(Min)
480×830mm(Max)
130×230mm(Min)
570×830mm(Max)
Paper thickness
100-200g/m2
100-200g/m2
Cardboard thickness
1-3mm
1-3mm
Finished product size
100×200mm(Min)
450×800mm(Max)
200×200mm(Min)
540×800mm(Max)
Production speed
25 sheet/min(Max)
25 sheet/min(Max)
Motor power
5KW/380V
5KW/380V
Heater power
6KW
6KW
Dimensions
7750×2320×1660(L×W×H)
7750×2500×1660(L×W×H)
Weight
3000kg
3300kg
Kingsun Machinery Company is a primary hard cover making machine manufacturer in China. We can also provide a wide range of high quality printing machines, packing machines, die cutting machines, and thermal film laminating machines, and more. We have been in international market for over 10 years. Till now, our products have been widely used in Europe, Asia, America and Africa.
For more information about us, please contact us.