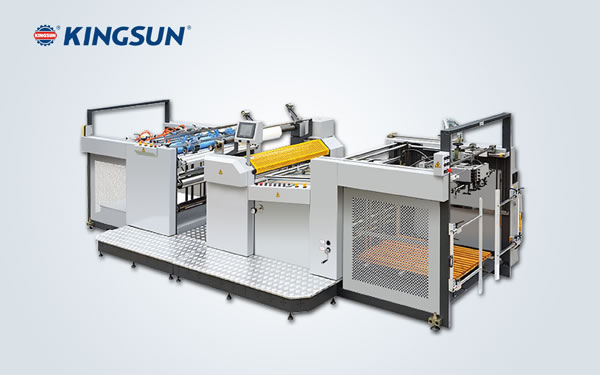 SGFM-1100 Automatic Thermal Laminating Machine (Laminator)
Applications
Our SGFM-1100 automatic thermal laminating machine or thermal laminator is suitable for thermal lamination of both pre-glued films and glueless films, onto paper materials.
Why choose our automatic thermal laminating machines?
1. This automatic thermal laminating machine can finish paper feeding, laminating, paper cutting, paper delivery and temperature control, etc. automatically. Hence, this thermal film laminator can help us save labor force and production period.
2. PLC centralized control for its electrical system, and touch screen control panel offers easier machinery operation.
3. Its heating roller is designed with built-in oil heating system, which offers uniform and stable laminating temperature.
4. SGFM-1100 automatic thermal laminating machine features high automation, simple operation, high speed, high pressure force, high precision, and more.
If you are looking for a high standard auto thermal film laminator, choose this one directly. Kingsun Machinery Company, as an experienced thermal laminator manufacturer in China, will never disappoint you.
Laminator configuration
1. This automatic thermal laminating machine is designed with pre-piled paper feeding system. Thus this film laminator is able to feed paper materials without stop, which greatly improves working efficiency.
2. A human-machine system with a 7.5 inch color touch-screen simplifies machinery operation. After input into the paper sizes and operation speed, etc. our thermal laminating machine will be able to finish film lamination automatically. Operators can check the running status through the touch screen, at any moment.
3. Automatic paper feeder with a photoelectric detector provides our thermal film laminating machine with automatic stop function. This can prevent the production of substandard products caused by paper shortage, broken paper, and overlapped paper, and more.
4. Conveying table is furnished with an air aspirator and a front lay, thus ensuring a stable and regular paper conveying.
5. Automatic hydraulic system provides our film laminator with stable and strong pressure force, thus guaranteeing a good film lamination quality.
6. An expanding shaft is used for loading and unloading films. It offers accurate film feeding.
7. The expanding shaft is also equipped with a clutch type tension control system. This system controls the feeding speed and tension of films.
8. Our automatic thermal laminating machine is equipped with a film cutter which can cut films to desirable sizes, to meet the paper size.
9. Film perforating machine is equipped to produce holes along the film edge, thus offering easier auto-cutting for the laminated paper.
10. Anti-curve device which is equipped with a water chiller. When going through the anti-curve device, the laminated paper will be leveled and cooled at once. Thus laminated materials will not curve again after cutting.
11. This auto thermal laminator is equipped with a pneumatic cutting system. Operators only need to input paper size through touch screen, and then the machine will finish paper cutting automatically.
12. This automatic thermal laminating machine can also finish laminated paper rewinding without cutting. The rewinding speed is adjustable.
13. Auto paper collecting system is also available in our automatic thermal laminators. This system is also designed with pneumatic patting device which with adjustable patting frequency. The paper collecting table is vertically adjustable.
Technical parameters of automatic thermal laminating machine SGFM-1100
| | |
| --- | --- |
| Model | SGFM-1100 |
| Max. laminating width | 1,000× 780mm |
| Min. laminating width | 300× 440mm |
| Paper thickness | 125-500g/m2 |
| Laminating speed | 0-50 m/min |
| Total power | 26KW |
| Dimensions | 4,800×2,020×2,020mm |
| Weight | 3,500kg |
Kingsun Machinery Company is one of the automatic thermal laminating machine manufacturer and supplier based in China. Since its inception, we have been learning advanced production technologies and acquiring high standard equipment, thus producing high quality machines for our customers. Till now, we have had over 20 years manufacturing experience for variety machinery, in addition to automatic thermal laminators. Our other product include die cutting machines, rotogravure printing machines, dry laminating machines, post press equipment and packing machines, and more.
Currently, you can find our products in over 50 countries around the world. Welcome to choose our products.