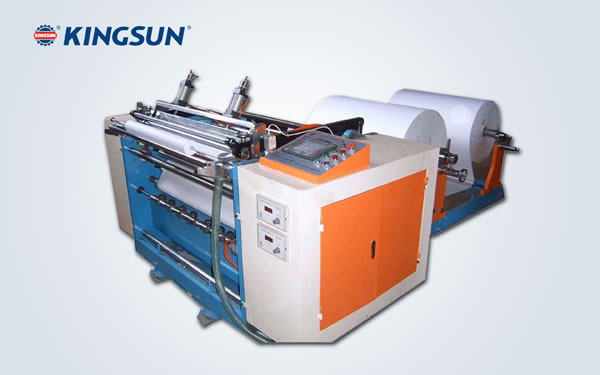 QFJ-900 Fax Paper Slitter Rewinder
Features of fax paper slitter rewinder QFJ-900:
QFJ-900 fax paper slitter rewinder features high operation speed and high automation. It is extensively used for slitting and rewinding fax paper, cash register roll paper, electro-cardiogram printing paper, ATM paper, POS paper roll, among others.
Advantages of fax paper slitter rewinder QFJ-900:
1. This slitter rewinder has a high speed of 180m/min.
2. It features high production efficiency. Take paper with size of "44" as example, and with regard to single-layer reel paper slitting, our fax paper slitter rewinder can slit the reel paper into 20 rolls. With regard to double-layer reel paper slitting, our slitter rewinder can slit the reel paper into 13 rolls.
3. This fax paper slitter rewinder is designed with a pneumatic paper-insert type rewinding unit, which features high automation and simple operation.
4. This slitting and rewinding machine is PLC controlled and all data information can be seen through touch screen. This provides easier operation for our machine.
5. This slitting machine is suitable for a wide range of paper materials. This avoids the worry about the problem of a loose paper edge.
6. Auto printing, waste blowing and accurate counting functions are all available.
Main specifications of fax paper slitter rewinder QFJ-900
| | |
| --- | --- |
| Max. slitting width | 900mm |
| Max. unwinding diameter | 900 mm |
| Unwinding paper core diameter | 76 mm |
| Slitting width | 210mm, 216mm, 257mm. (for small roll 32mm, 35mm, 57mm etc. ) |
| Max. Rewinding diameter | 200 mm(Some big width roll diameter can reach 300mm) |
| Rewind paper core inner diameter | 0.5 inch, 1 inch or special size |
| Max machine speed | 180m/min |
| Power supply | 5kw |
| Voltage | 380V, 50Hz, 3P |
| Weight | 1,700KG |
| Machine dimensions | 2,500×1,500×1,400mm |
Kingsun Machinery Company is an experienced fax paper slitter rewinder manufacturer and supplier in China. In addition to slitter and rewinder, we can also provide laminating machines, paper label making machines, die cutting machines, and more. All our products feature reliable quality and economical prices. As a result, they are highly praised by both national and international customers.
Our company is located in Wenzhou city, a port city in China. This location offers us convenient access to seaports, airports, and highways. Thus we can produce our products at lower prices and customers can also save on international transportation cost.
Want to know more information? Pick up your phone and give us a call.