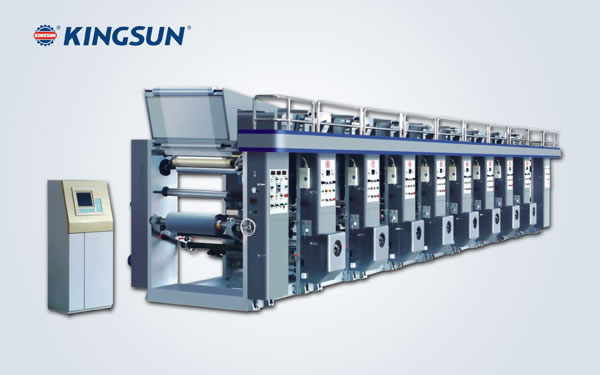 KASY-D Series Computer Control Rotogravure Press
Do you need a computer control rotogravure press?
Our computer control rotogravure presses are applicable for printing variety of high grade presswork. It is suitable for multi-color printing of various roll materials, like BOPP film, PET film, PVC film, PE film, aluminum foil, cellophane and paper materials, among many others.
If you are looking for rotogravure printing machines for these applications, our KAST-D series computer control rotogravure press is your ideal choice.
Why choose our computer control rotogravure presses?
1. This gravure printing machine is designed in combinational type. Its printing color can be increased or decreased upon customers' request. Reverse side printing mechanism is also available.
2, A shaftless pneumatic device is adopted for mounting a printing cylinder, thus providing our rotogravure presses with prompt and convenient press cylinder replacement.
3. KASY-D series computer control rotogravure presses are equipped with an aluminium alloy guide roller which is static balanced, an enclosed drying tunnel, and an automatic thermostatic control system, etc. This enables our printing machine to be energy saving.
4. The rewinding unit and unwinding unit are both controlled by an auto tension controller and a magnetic powder brake, thus guaranteeing precise and stable material rewinding and unwinding.
5. A vector frequency converter is adopted for controlling rewinding unit and material-delivery unit, thus providing our rotogravure printing equipment with steady performance.
6. A pneumatic backpressure type movable doctor blade and printing ink circulating system are equipped.
7. A patented high accuracy gear transmission box is equipped in our rotogravure presses.
8. Its rewinding and unwinding units are designed with double working positions, thus enabling our rotogravure presses to work continuously.
9. Fully automatic color registering devices are equipped.
11. Video camera system and ink viscosity controller is optional for KASY-D series rotogravure presses.
Technical parameters of KASY-D series computer control rotogravure presses
| | |
| --- | --- |
| Printing length | 240-1,100mm |
| Printing width | 600/800/1,000/1,200mm |
| Printing speed | 10-90m/min |
| Overprint accuracy | ±0.12mm |
| Power | 46/58/72/88KW |
| Dimensions | 10,800×2,250×2,720MM(L×W×H) |
| Weight | About 12,000kg (800mm, 6color) |
Kingsun Machinery Company is a China-based computer control rotogravure press manufacturer and supplier. Gravure printing machines, flexo printing equipment, and screen printing machinery are all available here. They are universally used in paper label production lines and plastic bag production lines. They are totally safe to use and feature convenient maintenance.
Welcome both national and international customers to contact us for more information, whether on printing machinery, post press equipment, or packaging machines.